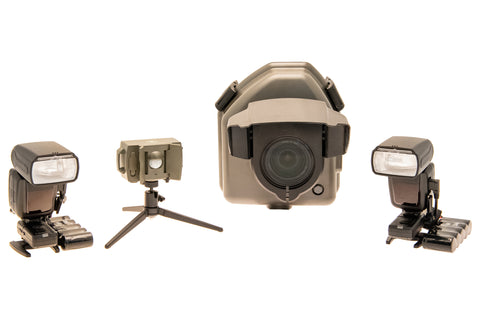 Wilderness Camera Trap Bundle
The Wilderness Camera Trap Bundle contains a comprehensive selection of Camtraptions products, which will help you to create a complete and fully wireless camera trap system, capable of lasting over 12 days on standby. All of the products in this kit are seamlessly compatible with each other, making it easier than ever to set up a long-term camera trap to take high-quality photos of secretive wildlife in remote locations. The kit contains two Z2 Camera Trap Zoom Flashes to craft your perfect lighting, and a Weather-sealed Camera Housing to keep your camera protected from the elements.
The Wilderness Bundle is now available with a saving of over 10%!
---
What's included
The Camtraptions Wilderness Camera Trap Bundle comes with the following products:
1x Wireless PIR Motion Sensor v3. The Camtraptions Wireless PIR Motion Sensor is trusted by photographers worldwide, due to its easy wireless setup, customisable programming, reliable triggering and weather-proof design.
1x Weather-sealed Camera Housing with the brand new Stacking Tube System. This popular protective housing will keep your camera safe from rain, humidity and physical damage.
2x Z2 Camera Trap Zoom Flashes. This brand-new Camera Trap Flash offers photographers an affordable, power-efficient and reliable flash unit, specifically optimised for camera trapping. Using two of them is ideal for creating artistic and natural lighting effects.
1x Wireless Transmitter v2. This Wireless Transmitter mounted in your camera's hot shoe will send out a wireless signal to fire the Camera Trap Flashes in-sync with your camera's shutter.
3x Wireless Receiver v2. One Receiver is simply connected to your camera's shutter release port to trigger the camera in response to signals from the Wireless PIR Sensor, and the other two Receivers

 (set to a different channel to the first)

are mounted underneath the Camera Trap Flashes to pass on 'flash shoot' signals from the camera.
2x 5Ah 6V Ni-MH Rechargeable Flash Batteries. These rechargeable battery packs can supply the Z2 Camera Trap Flash and its Wireless Receiver with over 12 days of power. The included non-slip gel straps allow you to mount the batteries to the flashes.
2x Flash Power Cables. These cables connect the 6V Batteries to the Camera Trap Flashes.
2x Wireless Trigger Voltage Regulator. These connect between Flash Power Cable and the Wireless Receiver, allowing the Receiver to draw power from the same 6V battery that supplies the flash.
1x External AA Battery Holder + Splitter Cable. This can be used with standard AA batteries to provide the camera's Receiver and Transmitter units with additional life.
1x Pack of Rain Covers for Flashes. These clear plastic rain covers can be secured around the flashes using the built-in drawstrings.
1x MightyPod. The small but strong mini tripod is perfect for mounting the PIR Motion Sensor.
1x Ni-MH Compact Charger. This compact charger unit is for recharging the 6V Flash Batteries between deployments.
Camera Connecting Cables (see below)
The Camera Housing contained in the Wilderness Bundle comes with the new Stacking Tube System included, which accommodates many different length lenses. However, we still recommend following our lens tube measuring guide, and if longer lengths are needed this can be achieved with the Tube Extension Kit or with long aluminium tubes.
The Wilderness Bundle has been designed to provide everything necessary for stills photography, but video recording may also be possible for certain camera models. Please contact us for details.

---
Camera Connecting Cables
The Wilderness Camera Trap Bundle comes with your choice of either Canon, Nikon or Sony cables to connect between the Receiver and your camera's shutter release port. The camera system can be selected using the dropdown box above.
The Canon bundle comes with 1x N3 Camera Connecting Cable and 1x E3 Camera Connecting Cable.
The Nikon bundle comes with 1x DC0 Camera Connecting Cable and 1x DC2 Camera Connecting Cable.
The Sony bundle comes with 1x S2 Camera Connecting Cable
Other cameras from brands such as Olympus, Fuji and Pentax may also be fully compatible with this bundle, but we recommend getting in touch with us first to confirm compatibility if you are unsure.
---
Additional Equipment
Please note that the Wilderness Bundle does not include the camera and lens.
The following items are also recommended to help create your camera trap:
---
Product Compatibility
*Some entry-level Nikon cameras do not have a shutter release port for connecting third party trigger equipment, which makes them incompatible with this bundle.
*Some entry-level Canon DSLRs feature a non-standard flash hot shoe mount and are therefore incompatible with the Wireless Triggers and Camera Trap Flash in this bundle.