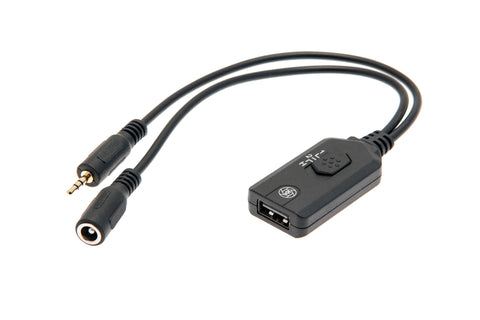 USB Switch
The Camtraptions USB Switch is a cable with an integrated controller, which allows a 5V power output to be turned on and off via a standard camera remote.
The cable has been designed to work seamlessly with Camtraptions sensors, wireless triggers and a wide range of other camera accessories. Among other applications, this enables various USB-powered devices (for example an LED video light) to be incorporated into remote control or camera trap set-ups.
The USB Switch can even be used to create a compact 4K video camera trap by connecting the cable to a compatible dashcam, since many dashcams are designed to start up and begin recording automatically when they receive power through USB.
---
How does it work?

The USB Switch has a 2.5mm jack that is designed to plug in to Camtraptions equipment or any remote release with a Canon E3-type female socket.
The USB Switch also has a female DC power input socket. This socket accepts a wide input voltage of 6V to 12V. The voltage is regulated by the switch to produce a stable 5V (up to 1.5 Amps) output via the USB socket.
The device has three operating modes, "1", "2" and "H", which can be set using the slider.
Mode 1: When a press signal is detected, the switch turns ON for 15 seconds then automatically turns OFF again. The ON time is extended by a further 15 seconds every time an additional press is detected.
Mode 2: First press turns the switch ON, second press turns the switch OFF.
Mode H: The switch is ON while the press signal is held.
---
Product Compatibility
---
Specifications
Input voltage through DC socket: 6V to 12V
Output voltage through USB socket: 5V
Maximum current: 1.5A
Weight: 21g