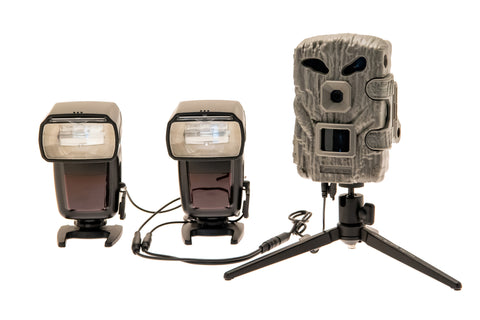 Trail Camera Speedlight Flash Bundle
This bundle gives a combined saving of over 12%!
The Trail Camera Speedlight Flash Bundle is the most cost-effective way to capture well-lit camera trap photographs at night. It is also an excellent tool for experimenting with camera trap lighting without the expense of setting up a full-blown DSLR or mirrorless camera trap.
The kit includes a Camtraptions Trail Camera, two F1 speedlight flashes, a pack of Flash Rain Covers and all the cables required for a dual off-camera flash set-up: 1x Trail Camera Speedlight Flash Adapter, 1x 2-way Flash Splitter Cable and 2x 3m Flash Cables.
Note that the MightyPod shown in picture is not included. The Trail Camera can be strapped to a post with the strap that is included, but we recommend purchasing a MightyPod, Tree Bracket or Ground Spike separately if you would like more control over the camera position and composition.