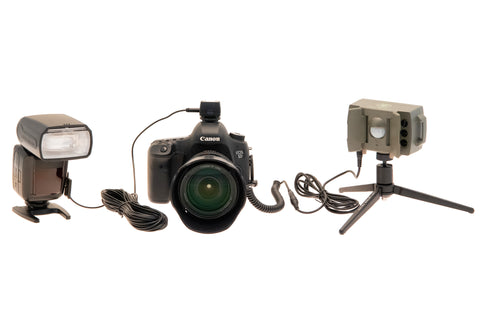 Garden Camera Trap Bundle
Put your old DSLR or mirrorless camera to good use by capturing incredible wildlife pictures in your own backyard!
The Garden Camera Trap Bundle contains everything you need to turn a wide variety of cameras into a high-quality camera trap system. All of the products in this kit are seamlessly compatible with each other, making it easier than ever to take photographs of secretive or nocturnal wildlife at any time of day or night.
The Garden Bundle is now available with a saving of over 15%!
---
What's included
The Camtraptions Garden Camera Trap Bundle comes with the following items included:
1x PIR Motion Sensor v2. The Camtraptions PIR Motion Sensor v2 is trusted by photographers worldwide due to its customisable programming, reliable triggering and weather-proof design.
1x 2m Sensor Extension Cable. 

This cable allows the sensor to be positioned anywhere up to 2 metres away from the camera.

1x F1 Camera Trap Flash. The F1 Camera Trap Zoom Flash offers photographers an affordable, power-efficient and reliable flash unit, specifically optimised for camera trapping.
1x Flash Hot Shoe Adapter. This Hot Shoe Adapter is used to create a reliable cable connection between the camera and flash.
1x 10m Flash Cable. The 10m Flash Cable allows you to place your strobe up to 10m away from the camera, opening up many creative lighting opportunities.
1x Pack of Rain Covers for Flashes. These clear plastic covers can be secured around the flash using the built-in drawstrings to provide protection from rain.
1x Waterproof Camera Cover. This light-weight and fully waterproof camera cover protects your camera from the elements. The cover can accommodate small mirrorless cameras and larger DSLRs such a Nikon D500 or Canon 5D Mark IV.
1x MightyPod. This small but strong mini tripod is perfect for mounting the PIR Motion Sensor.
Camera Connecting Cables (see below)
The Camtraptions products contained in the Garden Bundle will last over 5 days on standby when powered by alkaline batteries. This life can be extended by connecting external batteries to the Flash. Camtraptions external batteries can be purchased separately, or you can upgrade to the Wilderness Bundle for a longer standby time of over 12 days, plus an extra flash and camera housing.
The bundle has been designed to provide everything necessary for stills photography, but video recording may also be possible for certain camera models. Please contact us for details.
---
Camera Connecting Cables
The Garden Camera Trap Bundle comes with your choice of either Canon, Nikon or Sony cables. The camera system can be selected using the dropdown box above.
The Canon bundle comes with 1x N3 Camera Connecting Cable and 1x E3 Camera Connecting Cable.
The Nikon bundle comes with 1x DC0 Camera Connecting Cable and 1x DC2 Camera Connecting Cable.
The Sony bundle comes with 1x S2 Camera Connecting Cable
Other cameras from brands such as Olympus, Fuji and Pentax may also be fully compatible with this bundle, but we recommend getting in touch with us first to confirm compatibility if you are unsure.
---
Additional Equipment
Please note that the Garden Bundle does not include the camera and lens.
The following items are also recommended to help create your first camera trap:
---
Product Compatibility
*Some entry-level Nikon cameras do not have a shutter release port for connecting third party trigger equipment, which makes them incompatible with this bundle.
*Some entry-level Canon DSLRs feature a non-standard flash hot shoe mount and are therefore incompatible with the Flash Hot Shoe Adapter and Camera Trap Flash in this bundle.